The pandemic not only changed our daily lives for the long-term, but it made economic conditions entirely unpredictable. While countless small businesses were gutted by the inability to receive in-person traffic, other eCommerce solutions that helped businesses make the online pivot managed to soar. In the SaaS (software as a service) sector, several up-and-coming tech giants reported monumental gains as their companies grew full steam ahead.
Yet as the economy changes again, so too have conditions in several of these companies. Unfortunately as the adage goes, 'what goes up must come down,' and in these tech juggernauts those downturns are often accompanied by a sizable round of layoffs. Several of these tech juggernauts including Wealthsimple, Thinkific, Bonsai, and BBTV have been through the wringer lately, leaving hundreds of employees in their wake.
While layoffs are often the worst part of running a business, there are lessons to be gleaned from these stories in how to project your corporate messaging, in protecting your company against volatility, and above all else in treating your talent fairly on their way out the door.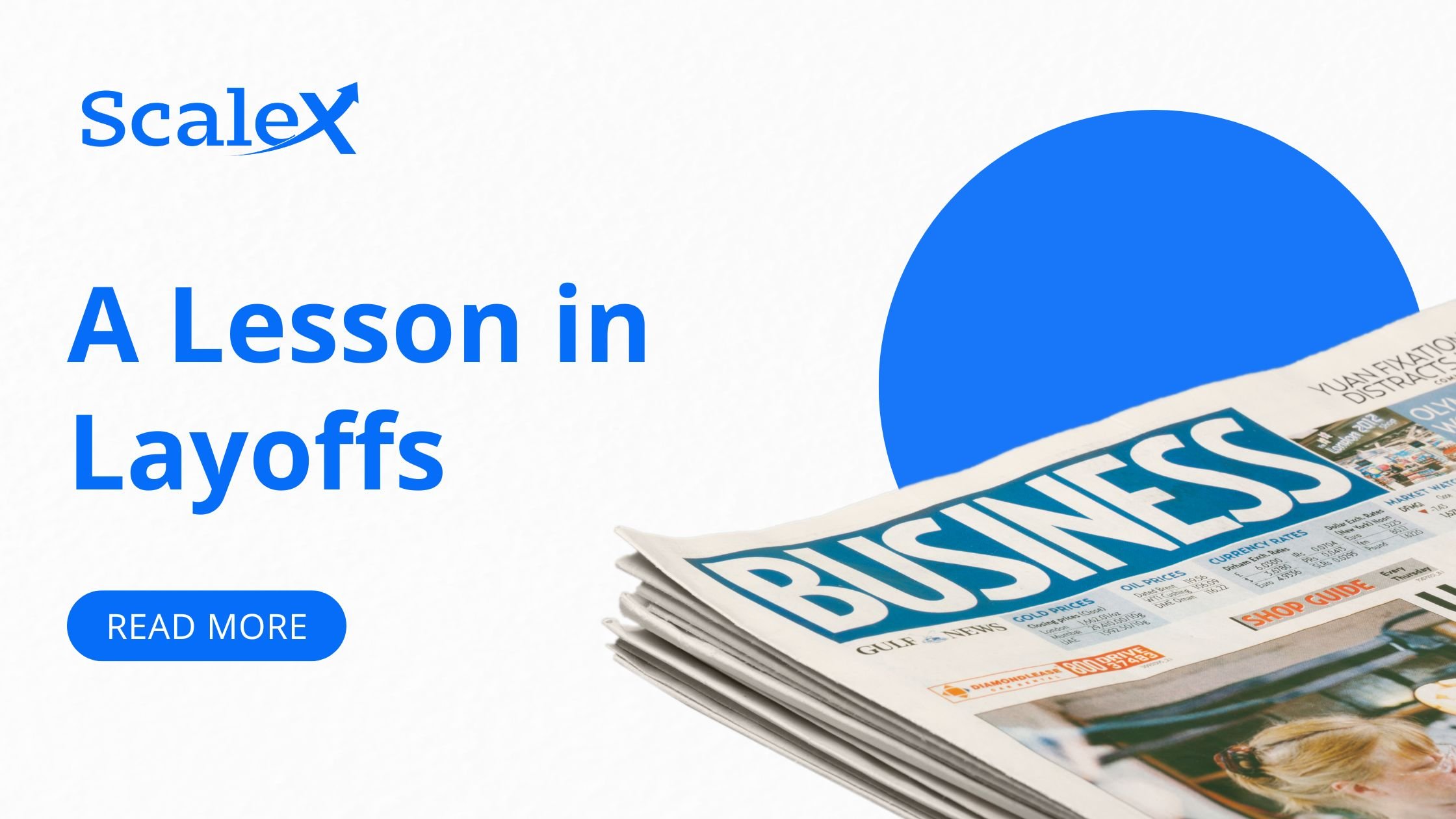 A Closer Look At Corporate Messaging
Large-scale layoffs are usually a symptom of a much greater illness, such a significant downturn in finances or a plummeting stock price. This sort of financial news can worry investors and current employees alike, especially if they expect further trouble ahead. For the departing employees though, a message from the CEO that's clouded in 'corporate speak,' without expressing remorse over the job losses, provides little comfort or transparency during a difficult time.
One of the main responsibilities of a leader in this situation is to maintain a calm demeanor, even if they are secretly panicking behind the scenes. When Thinkific needed to layoff 100 of its staff members (20% of the overall workforce), CEO Greg Smith said that the company could then "increase efficiency and lower costs without impacting our growth trajectory." While Smith described the move as "painful and unfortunate," he added "I think it's the more responsible decision than taking the risk that it maybe would have to be more in the future."
Others have tried to spin their layoffs into a positive move, imaginably offering cold comfort to the affected employees. When embedded commerce startup Bonsai laid off ⅓ of its small team, CEO Saad Siddiqui described the move as "a change in Bonsai's operating philosophy." He noted "we want to make sure we have enough time and enough resources to be able to iterate on the product and the growth of the business." Similarly, when speaking of her company's round of layoffs, BBTV's CEO Shahrzad Rafati stated that "We have to make some hard choices, but this is the right moment to focus on the lines of business that create the greatest value of our customers, shareholders, and ecosystem partners."
Layoffs may be inevitable, whether they involve 20 team members or 2,000, but the Company's attitude both publicly and privately towards the move can speak volumes. A message overrun with corporate jargon can make employees receiving the news feel like they were simply numbers on a balance sheet. Instead, an honest and transparent approach mixed with the right degree of empathy can go a long way to helping employees save face.
The Wealthsimple Letter
Canadian company WealthSimple recently went through a severe round of layoffs after enjoying financial prosperity during the pandemic. While the layoffs were not without some controversy, Wealthsimple founder Michael Katchen won wide praise for revealing the news in an open letter, which appeared on medium.com following an in-house meeting with all staff. Katchen stated that he was trying to live up to his company's value of transparency (although some employees debated the assertion), and the letter lays out in plain language his plans of how layoffs would proceed and what the company's plans were moving forward.
First, he announced that packages would include a generous severance with consideration for the duration of each employee, along with extended health and dental benefits. While the details of each package will be specific to the individual employee, this is a clever move by the company. Provided that the packages are as generous as stated, Wealthsimple has preemptively minimized the company's risk of any legal claims. Next, Katchen stated that employees would be allowed to keep their laptops and home office equipment, and that their equity would vest for those who had not reached the vesting period. This is an additional level of generosity rarely seen in corporations of any size. These are the sorts of items that lawyers may negotiate for in a dispute over termination, so to offer them up prematurely makes employees feel valued while also minimizing that legal risk.
Lastly, Katchen did something noteworthy. Not only did he offer outplacement services, which often come standard with a corporate exit package, but he added that two of the company's leading investors have guaranteed interviews to anyone who has been laid off and is interested in those institutions. Wealthsimple knows that they may be on the hook for severance until employees find new comparable work, and so it is in their best interests to help employees land elsewhere quickly. Yet to make that offer publicly extends a generous olive branch, and helps to cushion the blow.
Despite any questions as to Wealthsimple's conduct behind the scenes, Katchen's letter serves as a master class to employers in handling bad news, and in getting ahead of a negative message. The openness and honesty of the letter may have only mildly eased the pain for those affected, but it left a great taste in the mouths of customers facing the news.
What NOT To Do
If you are unfamiliar with Better.com, you might be familiar with how they handled their mass round of layoffs in December, 2021.
Despite the company's valuation at $7B USD, Garg moved to terminate 900 of the company's employees last year. Instead of handling the situation with finesse though, he chose to do so in a cold, awkward, one-way Zoom call that was poorly received by staff. Then, to add insult to injury, Garg emailed 250 of the terminated staffers accusing them of being "TOO DAMN SLOW" and "EMBARRASSING" him, calling them "a bunch of DUMB DOLPHINS."
While Garg issued a sort of apology for his conduct, the company has been through two additional mass layoffs this year, reducing their previous headcount by more than half. In the March round, 3100 laid off employees were informed by seeing a severance check listed within their payroll software. Needless to say that in contrast to Wealthsimple's behaviour, Garg's Better.com is offering a real time example of how NOT to proceed with layoffs.
Tips for Navigating Layoffs
For employers in the unfortunate position of needing to lay off employees, there are a few key tips to keep in mind.
Be Clear. Employers in Ontario are not required to provide reasons for a termination, and while Katchen opted for transparency, that may not be appropriate for your workplace. Yet it is always smart to be clear and straightforward about what is happening, and what the next steps are. Weak and ambiguous language will only confuse or upset employees further.
Be Organized. Do not leave your termination meetings to chance, or "wait for the right moment." Strategize with your HR provider exactly how the conversation will proceed and when, who will be present, what documentation they will be presented during the meeting, and what the next steps look like. An employee's reaction may be unpredictable, but practically every other piece of the conversation can and should be planned in advance. Additionally, have a plan in place for how the team will be informed, and have some idea of a succession plan for who will be taking on those duties so that the business is not left scrambling.
Be Compassionate. No one enjoys laying off employees, but for the employee the layoff may be the hardest day of their lives. Some employees expect the news and are prepared, but many do not, and they may exhibit a range of emotions during and after that meeting. Be professional and respectful, but do not lose your humanity in the process. Wherever possible, allow the employee the opportunity to maintain their dignity. Even if the corporate policy is to walk an employee out and have their items sent home with them, find ways to carry this out that do not humiliate them during their worst hours.
Layoffs are hard, and oftentimes it's easier to leave it to the professionals. We help our clients through every aspect of termination planning - from reviewing their employment contracts to drafting letters to figuring out an exit strategy. Contact us today to learn more about our services.
Our team of HR experts at ScaleX put together this easy-to-use checklist to help guide you through the layoff process, from the planning stage to post-layoff considerations. We are open to offering support in any way possible so feel free to talk to us! Layoffs checklist: How to navigate a respectful process?